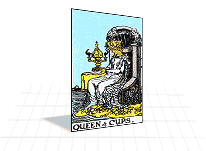 Queen of Cups

It Represents
Emotional and creative discipline.
A mature, strong and calm personality with a creative approach combined with practical common sense.
A time to trust ones instincts.
Likely career interests : Working in and around water, writing, painting, music, acting, counselling, psychology, architecture and study of religion or philosophy.

-->
Chat Now for Support