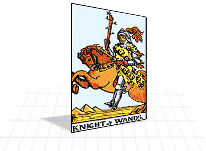 It Represents
Change, movement, challenge, a love for travel, learning and teaching.
Moving into a new home or a change of job.
A relationship that can be formed while travelling.
A man or a woman of a fiery nature.
Enthusiasm, positive attitude and eagerness for action.
An honest and straightforward individual.
Talk to tarot readers
Chat Now for Support