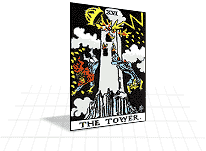 The Tower
The Tower is the 16th card of the Major Arcana.
It Represents
Breakdown and re-awakening.
Total change signalled by the end of previous patterns leading to new beginnings.
The need to break up the old patterns that no longer serve our needs.
The need to burn away the old and obsolete before the new idea can take form.
Major Arcana Cards & Their Meanings
Chat Now for Support