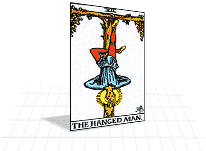 The Hanged Man
The Hanged Man is the 12th card of the Major Arcana.
It Represents
Pyrrhic victory.lt;/li>
A suspension of affairs followed by a turning point.
A growth in character as a result of dealing with problems.
Favourable result arising out of difficult circumstances.
The need to rise above problems and look at them from another angle.
This card sometimes frightens people, but put simply, it shows the need to adapt to changes in order to find inner peace.
Major Arcana Cards & Their Meanings
Chat Now for Support