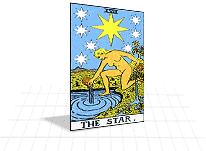 The Star
The Star is the 17th card of the Major Arcana.
It Represents
Hope, faith, new opportunities and optimism.
Illumination and inspiration.
Pursuit of educational or artistic matters.
Expansion and growth.
The appreciation of past efforts.
The indication that things will go well in the future.
Smoothening up of rough patches and an improvement in health.
Major Arcana Cards & Their Meanings
Chat Now for Support