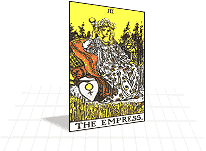 The Empress
The Empress is the third card of the Major Arcana.
It Represents
Abundance and fertility
Harmony and stability on the home front.
Moving closer to ones goals.
A need to get get back to nature.
Pregnancy, especially if it appears on the same spread as three of cups, 9 of pentacles or any of the pages.
Major Arcana Cards & Their Meanings
Chat Now for Support