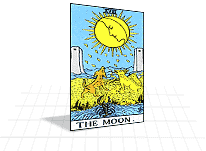 The Moon
The Moon is the 18th card of the Major Arcana.
It Represents
Strong emotions, expansion, confusion, strong dreams and an increase in psychic ability.
Dreams that hold warnings.
Highly charged emotions, possibly related with relationships.
The need to take a break.
A warning that danger could be in the air.
Plans going awry.
The chance to use one"s imagination, and beneficially channell it into artistic pursuits.
The need to rely on instincts in doubtful situations.
Major Arcana Cards & Their Meanings
Chat Now for Support