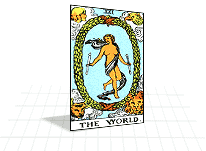 The World
The World is the 21st card of the Major Arcana.
It Represents
Clarity of judgement.
Happiness and lasting success.
Sense of pride and accomplishment.
A gradual, happy and satisfactory completion of objectives and goals.
Setting of new objectives and goals.
Admiration and goodwill of others.
Deep insight and a sense of inner peace.
A hint of new adventures to come.
;Travel.

Support

Chat Now for Support