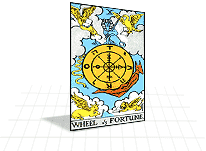 The Wheel
The Wheel of Fortune is the 10th card of the Major Arcana.
It Represents
A definitive turning point.
Change, and that nothing remain static.
Destiny that is played out in what appears to us as endings and beginnings, as one door closes, another opens.
Starting of a new cycle of events.
Major Arcana Cards & Their Meanings
Chat Now for Support