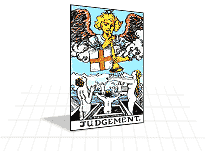 The Judgement
This is the 21st card of Major Arcana.
It Represents
Clarity of judgement.
End of a phase after which the inquirer can look back and make a clear evaluation of past events.
Natural conclusion of an endeavour rather than a sudden end. The inquirer will feel that he/she has done their duty and have a clear conscience.
The end of a project with the chance to start something new.
Rejuvenation, if something in life has been holding you down you will be released with the feeling of starting out afresh.
Favourable outcome of legal dealings.
Major Arcana Cards & Their Meanings
Chat Now for Support