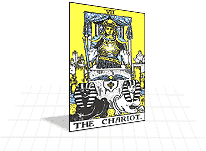 The Chariot
The Chariot is the seventh card of the Major Arcana.
It Represents
A time of struggle and hard work.
The need for hard work, patience and endurance.
The winged disc symbol of Isis depicts the spirit being able to soar above emotional trials.
The ability to keep a clear mind on emotional matters.
Possible travel in relation to work.
Determination and perseverance.
Major Arcana Cards & Their Meanings
Chat Now for Support