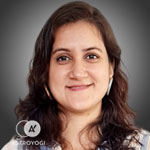 Tarot Shivi
Tarot

Notify me
English, Hindi, Punjabi
---
Delhi
Money Back
Guarantee
Verified Expert
Astrologers
100% Secure
Payments
About Me
I am an intuitive and certified Tarot card reader eager to assist people using this divine blessing. Being an empath has greatly aided me in understanding people and providing appropriate guidance. I was always fascinated by divine science and wanted to learn more about it, whether it was Yoga or healing. Now that I'm involved, I intend to give it my all. With the help of Tarot, I can accurately predict your past, present, and future. I can assess your current situation and offer advice on family, love and relationships, careers, businesses, jobs, and other areas. In addition to the Tarot, I am a certified Reiki Master, a past life regression expert, a spiritual coach, and a counselor.
Certified Tarot Card Reader
2022India
My interest in the occult sciences inspired me to become professionally trained in Tarot card reading methods. I have learned Tarot reading techniques from masters in the field.
Certified Reiki Master
2021India
I have also mastered the healing techniques of Reiki in Levels 1,2,3 and 4. As a Master Reiki healer, I use my expert abilities to help people attain natural healing of the mind, body, and soul.
Certified Past Life Regression Therapist
2022India
I use my professional knowledge of Past life regression Therapy for many unresolved issues that travel through lives.