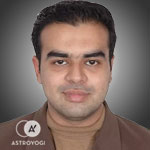 Astro Roli
Vedic, Tarot, Reiki Healing, Yoga & Meditation, Psychics
English, Hindi, Punjabi
---
Gurgaon
Money Back
Guarantee
Verified Expert
Astrologers
100% Secure
Payments
About Me
I'm Jyotish Acharya, Jyotish Alankar and a Vedic Astrology specialist, and I've been studying the subject for 15+ years. I have assisted many people in discovering themselves by unraveling their true potential, gifts, and strengths. I'm proficient in Numerology, Palmistry, Tarot, Angels, Clinical Hypnosis, Crystals. Besides, I also practice Usui Reiki, Lama Fera, and Clairvoyance. I do extensive reading and give consultations combining all sciences to help people resolve issues in marriage, career, business, family, etc. I strive to provide solutions, answers, and advice on any issue that may concern you using my knowledge of Astrology and related super sciences.
Jyotish Alankar
2016New Delhi
I have gained knowledge and training in astrology and received my Jyotish Alankar degree from a leading institute for astrology sciences in New Delhi.
Jyotish Acharya
2017New Delhi
After attaining my Jyotish Alankar, I further went on to do extensive astrological research and study, earning my Jyotish Acharya degree from a prestigious astrology institute in New Delhi.
Diploma in Clinical Hypnotherapy and Psychic Powers Practitioner
2021 United Kingdom
In addition to learning and earning professional skills in astrology, I have also gained a diploma in Clinical Hypnotherapy and Psychic Powers Practitioner from an ISO accredited international holistic medicine practitioner institute in the UK.
Certified Advanced Tarot Reader
2021 United Kingdom
I also have a degree in Advanced Tarot Reading and am a certified Tarot Reader.
B.E. Mechanical
2007Belgaum, Karnataka
I did my formal education as a bachelor's in Mechanical Engineering from a well-reputed college in the south Indian city of Belgaum.