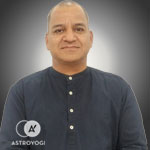 Acharya Ramesh
Vedic, Vastu
Hindi, Punjabi
---
Meerut
Money Back
Guarantee
Verified Expert
Astrologers
100% Secure
Payments
About Me
I am a well-known Vedic Astrologer with over 27 years of experience in the occult sciences and holistic healing. Aside from being an expert in various divine techniques of Vedic traditional knowledge such as Nadi Astrology, I also specialize in Vastu, Numerology, Reiki, Pendulum Dowsing, and other subjects. Since I was a child, I've been fascinated by horoscopes and astrology. I consider myself fortunate that astrology discovered me and has helped me grow as a holistic human being. While learning Astrology and Vastu from various gurus in many institutions and around, I realized how astrology empowers each person to take control of their lives in some small way and ultimately fulfill their destiny. After reading birth charts for more than two decades, I discovered that Nadi Astrology provided me with the exact answer as well as the correct time of events. As a result, I became an expert in Nadi Jyotish. The opening of a birth chart in Nadi Jyotish is thought to be predetermined and a form of divine blessing. I assure you that I will assist you in remaining aligned with the oneness of the universe. I learned many types of Occult Sciences to feel blessed by God, be a medium of light, guide the needy, and best serve my clients. My clientele is diverse, and they have always been encouraging and supportive, providing me with valuable, positive feedback.
Predictive Astrology with Lal Kitab
2010Delhi
I received my certificate for Predictive Astrology with the Lal Kitab system of astrology from a well-known institute for Vastu and living.
Jyotish Ratan
2010Ghaziabad, Uttar Pradesh
I also obtained Jyotish Ratna, an introductory course in Vedic Astrology, from a renowned institute.
Jyotish Pragya
2016Delhi
I completed a certificate course in Jyotish Pragya, an introductory level course in Vedic Astrology, from a well-known University.
Jyotish Bhushan
2016Delhi
I pursued the research level study in Vedic Astrology of Jyotish Bhushans from a leading astrologer's foundation academy.
Nadi Astrology Level I and II
2018Delhi
I completed levels I and II of Nadi Astrology from a well-established center for Vedic studies.
Vastu Shastra
2014Uttar Pradesh
I pursued various levels of Vastu Shastra studies, including Vastu Ratan, Vastu Shastracharya, and Vastu Rishi from the established institutes.
Advanced Dowsing and A to Z Geopathic Stress
2016Delhi
I learned the advanced level of Dowsing technique as well as Geopathic Stress from a well-known Vastu and holistic healing center.
Training of Lacher Antenna
2016Delhi
I got trained in the wonderful healing technique of Lacher Antenna from a reputed academy.
Numerology
2015Noida, Uttar Pradesh
I received my certificate in the predictive technique of numerology at a leading institute.
Vipassana
2008Dehradun, Uttarakhand
I learned one of India's most ancient forms of meditation techniques, Vipassana, from a well-recognized healing and meditation center.
Reiki Healer Level I, II, and III
2015Meerut, Uttar Pradesh
I received a degree from a reputed foundation in levels I, II, and III of Reiki Healing.
Advanced Reiki Healer
2017Delhi
I completed my advanced level certificate of Reiki Healing from a leading Reiki Healing foundation in India.
Acupressure Healing Science
2019India
I have learned the healing technique of Acupressure from different well-known institutes in multiple cities.