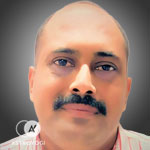 Rajdeep Pandit
Vedic, Prashna, Numerology

Notify me
English, Hindi
---
Delhi
Money Back
Guarantee
Verified Expert
Astrologers
100% Secure
Payments
About Me
I am an internationally acclaimed astrologer with over 12 years of experience and specialization in Vedic Astrology and Prashna Kundli. I also have extensive knowledge of Swapna Shastra (Dream Shastra) and Shakun Shastra. I have an Electronics & Technology degree and over 18 years of top-level experience with reputable MNCs and corporations. As a technical part of my professional life, I spent many years in foreign countries like Singapore and Israel. My area of expertise is guiding people on matters involving marriage, remarriage, love and relationship, family matters, job and career, finance and business, Investments and shares, education and subject guidance, foreign travel and settlement, Panchang, etc. To accurately predict the past, present, and future, I employ a scientific approach that interprets country, time, and character. I offer simple, straightforward and accurate astrological remedies.
Award for Excellence in Astrological Activities
2022Delhi
I received the very prestigious Ramesh Chander Chowdhari memorial award from a reputed astrology institute for my Jyotish (astrology) research work.
Studied Alankar and Acharya
2017Delhi
I received the degrees of Alankar and Acharya from a renowned Indian institute in 2017 and 2018, respectively. Moreover, I'm currently doing research in astrology under the guidance of eminent gurus in the field of astrology Guru Shri K.N.Rao Ji and Shri Deepak Bisaria Ji.
Read more articles by the astrologer