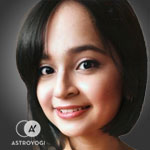 Tarot Priyaa
Tarot
English, Hindi
---
Hyderabad
Money Back
Guarantee
Verified Expert
Astrologers
100% Secure
Payments
About Me
I'm a professional Tarot card reader with expertise in advanced Tarot reading. I have explored and am well-versed in the field of Tarot, with a focus on Osho Zen cards. I have been offering my clients advice in various facets of life, including work, relationships, wealth, and other areas. I assist my clients in overcoming challenges easily and achieving success. I offer detailed advice on problem areas and other aspects of daily life. My clients are extremely pleased with my readings, which motivates and keeps me going to help and guide people. My life mantra is, "when a little guidance can do miracles, why not?"; all you need to do is seek the universe's advice and determine your life's course.
Certificate in advanced Tarot Reading
2020Hyderabad, Telangana
As a professional Tarot healer, I have completed the advanced Tarot course and specialize in Osho Zen Tarot.
Bachelor's Degree in Commerce
2018Hyderabad, Telangana
I also received my bachelor's degree in commerce from a well-known college specializing in foreign trade.