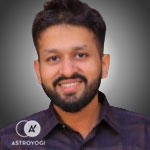 Astro Ekkansh
Numerology

Notify me
English, Hindi
---
Kolkata
Money Back
Guarantee
Verified Expert
Astrologers
100% Secure
Payments
About Me
I am a certified Astro Numerologist. I am completely attuned to this science, supported by my experience. I began practicing these divine sciences with close friends and family before deciding to serve and help others with miraculous predictions and solutions. I also analyze handwriting and signatures and perform compatibility analysis using both numbers and handwriting. I am a certified Face Reader and Graphologist as well. As a modern-day astrologer, my goal is to provide clients with clarity regarding their circumstances and numbers while also assisting them spiritually. My areas of expertise include career, compatibility, business, trauma issues, marriage, naming newborn babies, and so on. I give each of my clients' personalized attention in order for them to achieve the best possible solutions for a more fulfilling life.
Certified Numerologist
2021Bengaluru, Karnataka
I am a certified Astro Numerologist with experience serving clients all over India and a few overseas clients as well.
Certified Face Reader
2021Delhi
After successfully completing training under renowned experts, I received an international Face Reading Analyst Certificate.
Certified Graphologist
2019Kolkata, West Bengal
Using graphology therapy and handwriting analysis, I can advise people on what cannot be detected through their spoken words but can be predicted through their written words.