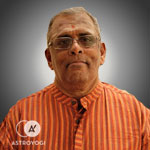 Guruji Chandran
Vedic
English, Hindi, Kannada, Tamil, Telugu
---
Bengaluru
Money Back
Guarantee
Verified Expert
Astrologers
100% Secure
Payments
About Me
I am a certified Vedic Astrologer with more than fifteen years of astrological experience. My journey into the world of astrology began when I became dissatisfied with the predictions of several astrologers, which resulted in financial losses. This was when I decided to educate myself in the field of astrology. I began studying Parashari Vedic Astrology at a leading council for astrological sciences in India and completed Jyotish Praveena and Jyotish Visharadh. Later, I became a member of a reputed federation of astrologer society and studied palmistry and body language analysis. Following that, I had the opportunity to learn advanced prediction techniques from Dr. Vasan, a prominent astrologer, after which I learned Nadi Astrology from Dr. RG Rao. I've been practicing Vedic Astrology for over a decade and have a prediction rate of more than 80% to 90%. I have several long-term clients for whom I can provide effective solutions to their most pressing problems. I have the ability and patience to listen to clients' problems and provide sound advice. I usually combine Parashari, Jaimini principles, and Nadi to make quick and accurate predictions. I offer solutions and advice on various topics such as daily life, marriage, career, health, and finances.
Jyotish Praveena and Jyotish Visharadha
2004Bangalore, Karnataka
I began my astrology education with Jyotish Praveena (a certificate course in Vedic Astrology) in 2004 and then progressed to Jyotish Visharadha (an advanced level course of Vedic Astrology) in 2006.
Samudrik Shastracharya Samudrik Ratna
2006Bangalore, Karnataka
I'm also certified in Samudrik Shastracharya, a Vedic tradition that includes face reading, palm reading, body analysis, and other techniques.