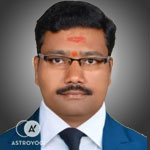 Acharya Brahamasri
Vedic, Tarot, Numerology, Prashna
Hindi, Telugu
---
Hyderabad
Money Back
Guarantee
Verified Expert
Astrologers
100% Secure
Payments
About Me
I have been a professional Vedic Astrologer, Tarot Card Reader, Numerologist, Prashna Kundli Specialist, Bhrigu Nandi Nadi Vaastu, Palmist, Face Reader, and many more for the past 22 years. My knowledge of horoscopes has earned me a reputation for providing accurate future predictions. My remedies are simple and straightforward, and they have proven to be very effective for my clients. I have thousands of clients all over the world, including politicians, celebrities, film stars, athletes, and others. I am an expert in resolving problems in areas such as education, career, job promotion, travel abroad, love & relationships, marriage matchmaking, marital issues, Manglik dosh, Kala sarpa dosh, dual marriage dosh, progeny-related concerns, business development, legal issues, name correction, enemy problems, black magic remedy consultation, Muhurthas and many more. Since I was a child, I've been fascinated by divine sciences such as Mantra, Yantra, Tantra, and traditional Vedic practices.
Astrology Awards
2015Telangana
For my outstanding contributions to the worlds of astrology and divine sciences, I have received prestigious astrology awards such as Brahmasri Jyotisha, Vaastu, and Shirobhushana.
Astrology Award
2020Varanasi, Uttar Pradesh
The renowned society of the Akhila Bharatha Padma Brahmana Purohita Sangam honored me with an award for my contributions to society and the field of astrology as a Vedic astrologer.
Certificate in Tarot
2021Telangana
I received my certificate in tarot reading from a well-known training and consultancy academy, where I was mentored by renowned masters.
Masters in Arts
2001Telangana
I completed my master's degree in arts at a well-known Indian university.