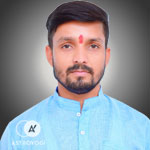 Astro Aditya
Vedic
Hindi
---
Lucknow
Money Back
Guarantee
Verified Expert
Astrologers
100% Secure
Payments
About Me
I am an experienced astrologer with a specialization in Vedic Astrology. My father, who has been a professional and knowledgeable astrologer for 40 years, taught me astrology. For many years, I have worked continuously in the field of astrology, studying Vedic astrology, Vedic rituals, and Vastu Shastra. In addition to Vedic astrology, I have extensive experience dealing with people's problems through Gemstone consultation, Vastu Shastra, Navagraha Puja and Yantra, and Vedic Remedy. With my knowledge of Vedic astrology and years of experience in the field, I can constantly provide appropriate solutions to people's problems. I have assisted thousands of people, and my clients have benefited from my advice and remedial solutions. My areas of expertise include marriage, love, relationships, finance, wealth, property, career, business, money, vehicle Astrology, Grah Shanti, and gemstones.
Diploma in Vedic Astrology
2021Jaipur, Rajasthan
I received my professional diploma in Vedic astrology from a well-established university in India.
A Member of a Prestigious Astrological Society
2020Lucknow, Uttar Pradesh
I am a current member of one of India's leading federations of astrology society.
Bachelors in Science
2013Uttar Pradesh
Before pursuing astrology and related studies, I received a science education from a reputed institution.