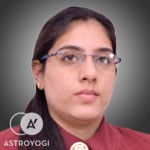 Astrologer Ssimran
Vedic, Numerology, Vastu
English, Hindi
---
Delhi
Money Back
Guarantee
Verified Expert
Astrologers
100% Secure
Payments
About Me
I am an astrologer who possesses good knowledge and experience of Vedic Astrology, Numerology & Vastu Shastra. I have completed my graduation in French, Masters in Astrology and now pursuing my Ph.D. in Astrology and also learning advanced methods of astrology from Magha Vedic astrology academy(U.S.A), from the famous astrologer K.R.S (Kapiel Raj Srivastava), and also an author of various English fiction novels. I believe astrology can be devised to get insights about our future in regards to the natives career, wealth, fame, marital bliss. childbirth etc.
Astrology came into my life as a blessing. When I was just a teacher (French) somehow I was very much interested to understand how these planets are so far away from us and yet influence our lives, then this interest got converted into a passion. I got deep into astrology and got all the answers I was seeking, then again I was not sure or can say was confused regarding remedies and their effect on human life this is when I decided to try these remedies on my own and realized that they work. I have also done detailed practical research on human beings and the effect of planets on their career, fame, marriage prospects as per their horoscope in their life, It was only after my research on my horoscopes I started guiding and providing remedies to my clients and in my experience of 11 years, I have helped a lot of people though Astrology, Numerology, Vastu Shastra and remedies. I have helped them to come out of their problems too. I have been awarded multiple awards like JYOTISH BHUSHAN, JYOTISH MARTAND, BEST ASTROLOGER AWARD by great astrologers like Ajay Bhambhi, Dr. H.S. Rawat And Acharya Dr. Dalip Kumar, and Anil wats. I am also well versed with the principles of numerology and can do a numerology consultation too and believe that the magic of numbers and slight changes in your name can bring lots of positive changes in life. I can also guide you based on the Vastu Shastra principle of your home or office if required. My main focus is to make your account of karma balance in this birth.
I am completely honest with my clients and never hide or manipulate facts with them. I believe a lot in rudraksha therapy as lord shiva has every solution to every problem, sometimes we can't escape from our karma but I believe in balancing our karmas by knowing the positives and negatives of our horoscope by this way we can improve our life in a beautiful manner.