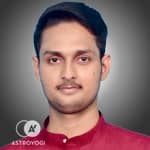 Astro Rishi
Vedic
English, Hindi
---
Lucknow
Money Back
Guarantee
Verified Expert
Astrologers
100% Secure
Payments
About Me
I am an expert Vedic Astrologer. I began the practice many years ago, and I am constantly providing appropriate solutions to people's problems using my knowledge of Vedic astrology. I learned astrology from my father (an experienced and knowledgeable astrologer working for 40 years) and gurus of Sanskrit school from a reputed department of Astrology. Working continuously in the field of astrology for more than a decade, I studied Vedic astrology, Vastu Shastra, and Vedic rituals. Apart from Vedic astrology, I have extensive experience in Gemology, Vastu, Prashna Shastra, Navagraha Yantra, and Vedic remedies to assist people with their problems. Thousands of people have benefited from my extensive astrological knowledge. I have expertise giving counseling in love and relationships, marriage, divorce, finance, wealth, property, Vastu, everyday life, career, and wealth.
Certificate in Vedic Astrology
2021Haridwar, Uttarakhand
I received my certificate in Vedic Astrology awarded by a leading Jyotish (astrology) institute in India.
Diploma in Vedic Astrology
2021Lucknow, Uttar Pradesh
I received my diploma in Vedic astrology from a leading university.
Certificate for Excellence in Astrology
2018Lucknow, Uttar Pradesh
I received a certificate of excellence in Vedic astrology for my outstanding achievements in the divine subject.
A Member of a Prestigious Astrological Society
2020Lucknow, Uttar Pradesh
I am an active member of one of the most prestigious federations of astrologers society and a leading astrology platform.