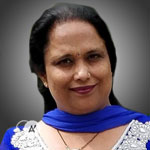 Tarot Kumud
Tarot
English, Hindi
---
Hyderabad
Money Back
Guarantee
Verified Expert
Astrologers
100% Secure
Payments
About Me
I am a professional Tarot reader, Numerologist, counselor, and Destiny Designer. I've had strong intuitions since childhood, which is where my interest in Occult Science began. My main goal in life is to help people with problems with Love, Marriage, Career, Money, Business, Investment, Travel, and other issues find the best and simplest solutions. I believe that the universe has solutions for every problem that a human faces throughout their lives; it is all about seeking the right guidance in life at the right time. I've assisted people with their internal and external struggles, which made me realize the bigger picture and my true calling to spirituality and occult science. I believe that each person is unique, as are their struggles. The universe will not give you anything that is not in your best interests.
Certificate in Counselling & Mind Workshop
2017 Hyderabad, Telangana
I've taken multiple Counselling & Mind Workshop courses from reputable institutes and attended numerous seminars that helped me improve my thoughts, feelings, beliefs, and behaviors. These techniques help me to provide people with an alternative method of healing.
Certificate in Tarot Reading and Numerology
2018Punjab
I have completed my expert certification courses from a renowned academy of occult science.
Masters in Business Administration
2015Bangalore, Karnataka
I have a master's degree in human resources, focusing on hiring and guiding people. I chose human resources as a major specifically because it allows us to interact with a wide range of people and gain a better understanding of them.