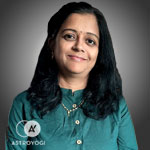 Dr Aarna Patel
Vedic, Tarot, Numerology, Prashna
English, Hindi, Kannada
---
Bengaluru
Money Back
Guarantee
Verified Expert
Astrologers
100% Secure
Payments
About Me
I am a gifted intuitive empath who has spent the last nine years working in the field of numerology. I am an engineer with a strong interest in holistic sciences. After finishing my engineering degree, I worked for over six years in various organizations across multiple cities, but I became fascinated with astrology and numerology and their practical applications in everyday life. During my college years, I was introduced to numerology, astrology, and palm reading. I am also an enthusiastic educator who volunteers with non-profit organizations in Bangalore. I've given consultations to numerous clients worldwide, including friends and family, and helped them solve problems with their careers, businesses, finances, health, marriage, relationships, emotional well-being, and so on. I have clients from all over the world, including the United States, Canada, the United Kingdom, Sri Lanka, Mauritius, and Australia. I believe that using Numerology and Astrology to determine the root cause of any problem is an effective way to find a suitable solution. Because of my constant research, I've been able to identify the root cause, make informed decisions, and find simple solutions. I believe in the supernatural power that guides us all to do the right thing for humanity's well-being. I chose astrology and numerology as careers in order to change educated people's negative perceptions of these sciences. There is a significant distinction between being superstitious and being religious. I want to lead and assist the world in taking the most scientific and practical approach to problem-solving.
Paper presentation on Artificial Intelligence
2006Coimbatore, Tamil Nadu
I presented a national-level paper presentation on Artificial Intelligence at an event held at a leading engineering college in India during my graduate program.
Paper presentation on the Application of Bioinformatic Tools
2007Bangalore, Karnataka
I have also presented a paper on the Application of Bioinformatic tools held at one of the top engineering colleges in India.
Certificate in Astrology
2012Baroda, Gujarat
I have done a certification course in astrology from a prestigious Indian university.
Certificate in Numerology
2015Delhi
I completed a certificate course in numerology from a reputed Indian institute of cosmic sciences.
Research in Ayurvedic Microbiology
2020Baroda, Gujarat
I did my research studies in Ayurvedic microbiology from a leading Vedic University in India.
Ph.D. in Vedic Astrology
2022Gujarat
I have done my Ph.D. in Vedic traditional knowledge specializing in Vedic astrology from a well-established Indian university.