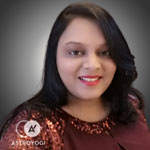 Tarot MJ
Tarot
English, Hindi
---
Delhi
Money Back
Guarantee
Verified Expert
Astrologers
100% Secure
Payments
About Me
I am a certified Tarot reader with strong intuitive abilities. After my father's demise, who was also an astrologer, I wanted to carry on the family's tradition and work professionally in the field of divine sciences. For many years, I worked as an HR professional and recruiter in the corporate world. In 2020, I started learning tarot reading and now practice it professionally. I have always been passionate about helping people in need. It is very satisfying when the solutions and predictions provided to the people result in a positive outcome. My day is filled with interactions with people from all walks of life from all over the world. Sharing my knowledge and experiences with others keeps me motivated.
Certificate in Advanced Level Tarot
2022Delhi
After an in-depth study of tarot under the tutelage of export masters in the field, I completed Advanced Tarot Mastery and applied my knowledge to help people.
Bachelor in French and Mass Communication
2008Delhi
I graduated from a prestigious college with a degree in French and Mass Communication.