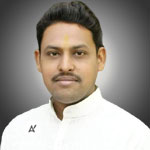 Acharya Prem
Vedic

Notify me
English, Hindi
---
Kanpur
Money Back
Guarantee
Verified Expert
Astrologers
100% Secure
Payments
About Me
I am a well-known and award-winning astrologer. I have extensive knowledge of Vedic Astrology, Numerology, Palmistry, Gemology, and Reiki. For more than 100 years, my family of generations-long astrologers has consistently provided people with astrology advice. Seeing my father and grandfather use astrology as a profession inspired me to pursue this passion of mine. I have extensive experience in the field and have established a reputation as one of the best astrologers. I consider it an art form to use the kundali to provide a precise solution in my line of work. To guide people, I use the most recent technology in this divine science, as well as my years of knowledge and experience. I've been providing a variety of solutions to people from diverse backgrounds. I consistently strive for excellence and accuracy to provide better assistance to people to meet their needs and solve their problems.
Certificate in Maharishi Vedic Astrology
2011Kanpur, Uttar Pradesh
Studying Maharishi Vedic astrology has expanded my knowledge of Vedic astrology and enabled me to provide enhanced advice to people with problems.
Master's in Computer Application
2015India
I also have a postgraduate degree in computer application from a prestigious university.