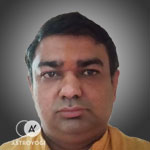 Guru Shriram
Vedic
English, Hindi
---
Gorakhpur
Money Back
Guarantee
Verified Expert
Astrologers
100% Secure
Payments
About Me
I am a learned Vedic astrologer and have more than 15 years of experience in various fields of astrology. I took Gayatri Sadhana and performed it in Brahma muhurta for the past fifteen years to expand my knowledge, understand life's purpose, and connect with astrological energies. I am passionate about helping people resolve difficulties in life through knowledge of mantras and astrological practices. I specialize in love, career, marriage, finance, childbirth, business, and Prashna Kundli. My clients have always been supportive and provided valuable and positive feedback. I offer consultation to provide direction in life and empower people to achieve their full potential.
Certificate of Astrology - Astro Research
2005Gorakhpur, Uttar Pradesh
I have earned a certificate in astrology for my research work in astrology.
Certificate of Astrology - Falit Jyotish
2021New Delhi
I have also received a certificate in Falit Jyotish.
Certificate - Mantra Sadhana
2019New Delhi
I have also learned professional Mantra Sadhana techniques and received a certificate for it.
MSc Physics
2014Mysore, Karnataka
I have a master's degree in physics from the well-established Karnataka State Open University.
MBA (Marketing)
2009Pondicherry
I have also earned a master's degree in business in Marketing from the reputed Pondicherry University in Pondicherry.
M.Ed
2020Rohtak, Haryana
I have also completed my master's degree in Education from the well-known MDU university in Haryana.
Read more articles by the astrologer