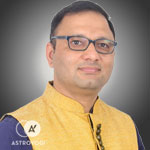 Astro Kourav
Vedic
English, Hindi
---
Bhopal
Money Back
Guarantee
Verified Expert
Astrologers
100% Secure
Payments
About Me
I am a well-known astrologer with excellent experience of over 15 years. I belong to a traditional Indian family. I learned astrological education from a prestigious institute of astrological sciences, where I earned the title of Jyotish Ratna. I've assisted many people in analyzing their birth charts and identifying major success roadblocks. In addition to astrology, I've studied Reiki Healing and pendulum dowsing at the master level. I am also well-versed in Vastu Shastra, Numerology, and Cosmic Healings. People from all walks of life, such as students, working professionals, business owners, and homemakers, are among my clients. People appreciate the simple solutions I provide, and their positive feedback motivates me to do more good in the world. My specialties are business consulting, love and relationship counseling, and remedial Vastu.
Awarded the title of Jyotish Ratna
2011New Delhi
I received my early astrology education from a reputable astrology federation, where I was given the title of Jyotish Ratna after completing professional-level astrology studies.
Certificate in Reiki and Pendulum Dowsing
2019Bhopal, Madhya Pradesh
I received master level training in Reiki Healing as well as learned the healing technique of Pendulum Dowsing at a leading astrology and research center in India.
Bachelor's in Commerce
2001Bhopal, Madhya Pradesh
I got my basic education done as a commerce graduate from a well-established university.
Master's in Business Administration
2007Mumbai, Maharashtra
My bachelor's in commerce degree of education was followed by a master's in Business Administration from a reputed management institute.