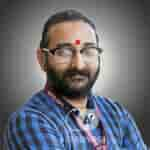 Dr Kanhaiyya Gairola
Vedic

Notify me
English, Hindi
---
Delhi
Money Back
Guarantee
Verified Expert
Astrologers
100% Secure
Payments
About Me
'Think positive & the things will be positive' With this motive I am doing my spiritual work in Astrology, Vaastu & spiritual healing.
I am Dr. Kanhaiya Gairola from the Dev Bhoomi of Uttarakhand. I did my shastri (B.A) in Astrology. Acharaya (M.A) in karamkand from Lal Bahadur Shastri University, New Delhi. I did my PhD in astrology including the subject of pourohitya from HNBG University, Sri Nagar, Garhwal, Uttarakhand. All the above degrees I did in Sanskrit.
I have been giving my expert advice since 1998 in Delhi, Mumbai & abroad (U.K, Canada, Russia, Kazakhstan, Philippines, South Africa and Australia). My clients include people from abroad and those in prominent positions. I have a good knowledge of astrology / vaastu / karamkand / numerology / color science / gemmology / pyramid science / tree science (a new way of astrology). My predictions & solutions are based on all of the above subjects, therefore, it has been found accurate by many of my clients. My predictions and solutions are based on scientific knowledge & I do not propagate myth and fear. I do not play with the sentiments of my clients. I have done research on various trees like health/prosperity based on the ancient methods which our Rishis & Munis practiced.
My predictions are also published in some of the magazines abroad by Indian community like 'Santa Banta' an Australian advt. magazine.
I provide consultations regarding astrology / vaastu and remedies. I am also invited by my clients in India and abroad for the same purpose.