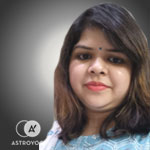 Astro Swara
Vedic
Hindi
---
Agra
Money Back
Guarantee
Verified Expert
Astrologers
100% Secure
Payments
About Me
I am a certified Vedic Astrologer with over eight years of experience guiding and providing solutions to people in need. After completing my astrology education, I worked as a trainee under the supervision of my guru; since then, I have been working in the field of astrology and providing proper solutions to people through astrology. I believe in using my astrological knowledge to help others; my philosophy is to offer simple remedies that anyone can use to improve their karmas, whether past or present, such as performing pooja and helping others. I believe that a person should always be grateful for what they have in their lives, whether food, friends, family, or anything else. "Karmas" is a concept in which I strongly believe.
Conducted Workshops on Astrology
2016India
I have led, participated and contributed to numerous astrology workshops across cities in India to disseminate knowledge of the divine science of astrology while also bringing together like-minded experts on a single platform, not just in 2016 but in the years since.
Bachelors in Commerce
2010Agra, Uttar Pradesh
I completed my bachelor's degree with a major in commerce from a reputed college.