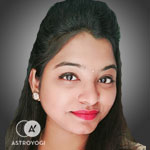 Tarot Poornima
Tarot
English, Telugu
---
Hyderabad
Money Back
Guarantee
Verified Expert
Astrologers
100% Secure
Payments
About Me
I am a certified Tarot Card Reader, Professional Astrologer, Psychic Expert, and a dedicated spiritual healer. I have over five years of experience in providing a highly satisfied and accurate prediction in all aspects of life, such as Love, Relationships, Marriage, Career forecast, Soulmate connections, etc. Magic mantras, candle therapy, crystal healings, and spiritual healings are some of the things I work with. I am a blessed soul with strong intuitive abilities who can see into any situation that is occurring around you. My in-depth readings will help you see a clear picture of your issues and find a solution to them. I am a holistic healing expert focused on finding balance and inner peace in every circumstance. The connections I can access from my spiritual sources allow me to be a conduit for you to achieve more information from me. My beloved clients come from all corners of the globe! And let me be there for you as well, to lead you to the roads of happiness and choose the right decisions and paths under my spiritual guidance!
Professional Psychic and Spiritual Healer
2016Indore, Madhya Pradesh
I completed a professional course in Psychic and Spiritual Healing from a well-known institute for Vedic sciences.
Certificate in Tarot Card Reading
2017Bangalore, Karnataka
I received a certificate in a professional Tarot Card Reading course from a prestigious institute.
Spiritual Life Coach
2018USA
I got certified as a Spiritual Life coach from a renowned and internationally recognized transformation academy.
Certificate in Intuitive Tarot and Psychic Business
2019USA
I received a certificate in Intuitive Tarot and Psychic Business from a well-known academy for psychic healing.