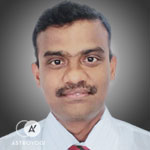 Acharya Mugil
Vedic, KP, Prashna

Notify me
English, Tamil
---
Chennai
Money Back
Guarantee
Verified Expert
Astrologers
100% Secure
Payments
About Me
I am an experienced and renowned astrologer with expertise in Vedic astrology. I am also an expert in Nadi astrology, Prashna Kundli, KP astrology, and WPT (watch predictive technology). I further educate people by applying my superior astrological reasoning. I have experience providing advice on various concerns related to planetary transits, favorable and unfavorable dasha periods, education, career, marriage, foreign travel, and settlement, among others. I have offered direction and solutions to people from all walks of life, both in India and internationally, using the versatility and wisdom I have accumulated over the years. I've delineated more than 500 birth charts, and my natural aptitudes for assessments and predictions have won me the gratitude, respect, and admiration of my clients.
Master's in Astrology
2021Tamil Nadu
I have a master's degree in the field of Vedic Astrology.
Certificate in KP Astrology
2021Chennai, Tamil Nadu
I received extensive training in KP Astrology from a renowned academy in this field under the guidance of eminent teachers.
MBA in Human Resource Management
2021Salem, Tamil Nadu
I have a master's degree in business administration, specializing in human resource management.