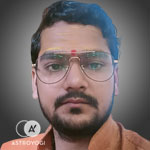 Acharya Mokshit
Vedic

Notify me
Hindi
---
Uttar Pradesh
Money Back
Guarantee
Verified Expert
Astrologers
100% Secure
Payments
About Me
I am a certified and knowledgeable astrologer. I am passionate about helping my clients when they are in need. I consider it my duty to solve all the problems, provide guidance, and bring stability to people's lives. I conduct my readings with divine guidance and ethical astrological principles. However, my main goal is to empower you with a spiritual understanding of the universe while also providing you with clarity and insight about your life. Precaution, in my opinion, is one of the best astrological remedies. With a strong interest in astrology, I am here to help you overcome all obstacles in your daily life and find genuine satisfaction and comfort. My goal is to share my knowledge and skills with others so that they can benefit from my advice.
Shastri Acharya
2017Varanasi, Uttar Pradesh
I completed my Shastri Acharya's degree in astrology from a reputed Sanksrit university.
Vedic Jyotish Acharya
2019 Ayodhya, Uttar Pradesh
I have also received a Vedic Jyotish Acharya degree from a well-established university of learning Sanskrit and Vedas.