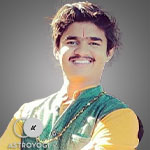 Astro Guru
Vedic

Notify me
Hindi
---
Madhya Pradesh
Money Back
Guarantee
Verified Expert
Astrologers
100% Secure
Payments
About Me
I am a qualified and well-experienced Vedic astrologer and Vastu Consultant. I come from an astrologer family, which inspired and motivated me to pursue occult sciences as a Vedic astrologer at a young age. I specialize in Vedic astrology and provide precise horoscope readings. My specialty is that I begin my prediction by predicting the past, followed by the present and future. I tell my clients about their past first, and once they start to trust me, I start making detailed predictions about the future. I always encourage my clients to stay positive and move forward with time. I am able to use a horoscope to reveal the precise time of any event. My predictions have pleased a large number of clients in India, Canada, Armenia, and Australia.
Masters in Jyotirvigyan (Astrology) and Vastu
2022Ujjain, Madhya Pradesh
I have done my master's in Jyotirvigyan from a reputed university, where I studied different techniques of Vedic astrology. This knowledge has helped me make accurate future predictions. I also have a master's degree in Vastu Shastra.
Masters in Political Science
2019India
I also completed my master's degree studies in political science. Prior to that, I earned a bachelor's degree in commerce.