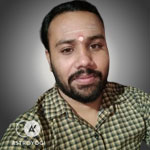 Astro Akhilesh
Vedic

Notify me
Hindi
---
Gorakhpur
Money Back
Guarantee
Verified Expert
Astrologers
100% Secure
Payments
About Me
I am an award-winning professional astrologer who has been guiding people in the right direction for over two decades. Using my expert knowledge, I have assisted numerous individuals in finding solutions to their problems. Besides that, I also use my knowledge to teach many people the craft of this divine science. I provide precise and practical solutions to people, which have proven to be quite effective. The positive feedback I receive from my clients inspires me to continue giving the best solutions and advice to people with their problems.
Global Astro Icon Award
2021Ujjain, Madhya Pradesh
This award was given to me by the International Astrology Federation in recognition of my exceptional service and contribution to people and the field.
Maharishi Parashar Jyotish Samman
2021Jabalpur, Madhya Pradesh
I was bestowed this honor by Rashtriya Jyotish Evam Rudraksha Anusandhan Sansthan in recognition of my outstanding contribution to astrology.
Shastri Degree in Vedic Astrology
2014Varanasi, Uttar Pradesh
I studied for my bachelor's degree in astrology and completed the Jyotish Shashtri course from a reputed university.