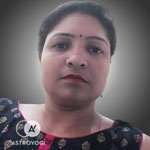 Astro Maya
Vedic

Notify me
Hindi, Punjabi
---
Jalandhar
Money Back
Guarantee
Verified Expert
Astrologers
100% Secure
Payments
About Me
I am a certified Lal Kitaab and Vastu expert. Since 2008, I have been specializing in the field of occult sciences. I started with Lal Kitaab and have many years of experience. I also know Krishnamurthi Paddhati, which is also known as KP Astrology. And I have excellent experience in AstroVastu. I've been certified by several well-known organizations, including MahaVastu, Jyotish Veda, and many others. I provide consultation in various areas of life, including marriage, career and business, love and relationship issues, wealth and property matters, and more. The remedial solutions I'm providing are simple to use and have a track record of being very effective.
Certified Red Book Expert & AstroVastu Consultant
2008Jalandhar, Punjab
I received my certification in these two excellent methods of prediction and solution from a well-established organization. And I've done significant research in these areas.
Certificate in MahaVastu
2018Delhi
As a trained MahaVastu expert, I can use this knowledge to identify more up-to-date solutions to issues pertaining to the traditional Vastu principles.
Member of Jyotish Vedang
2018Delhi
I am a member of the reputed Jyotish Vedang, a like-minded community of astrologers aiming to take astrology higher in the realm of occult sciences.
Certified Krishnamurthi Paddhati expert and Aura Scanner.
2019Delhi
I am an expert in the excellent system of Krishnamurthi Paddhati and the Aura scanner of energies.