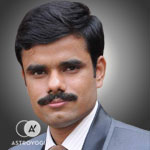 Acharya Khaspuriya
Vedic

Notify me
Hindi
---
Delhi
Money Back
Guarantee
Verified Expert
Astrologers
100% Secure
Payments
About Me
I am a professional astrologer specializing in advanced techniques such as Vedic Astrology, Naadi, Vaastu, Prashan or Horary Astrology, and Astro-Vastu. In addition to using the techniques of Vedic astrology, I also rely upon my numerology and Vastu expertise when advising my clients. I can provide advice on any specific issues relating to education, job and career, love, personal relationships, having children, and marriage compatibility analysis. My remedies are practical and easy to follow, which has proven to be very effective for my clients. My knowledge of remedial solutions goes back to ancient techniques of prescribing gemstones.
Jyotish Acharya
2017Delhi
I studied Vedic astrology extensively, did a lot of research on it, and earned an Acharya degree in the subject from a well-known institute for astrological studies.
Jyotish Alankar
2016Delhi
I have also pursued another comprehensive research and study in Vedic astrology and earned a Jyotish Alankar degree from a renowned astrological studies institute.
Vaastu Prabhakar
2016Delhi
I have also learned the techniques of Vastu Shastra extensively and earned a Vastu Prabhakar degree in the subject from a prestigious institute for Vastu studies.