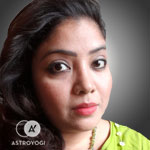 Psychic Vrushali
Vedic, Tarot, Numerology, Vastu
English, Hindi, Marathi
---
Mumbai
Money Back
Guarantee
Verified Expert
Astrologers
100% Secure
Payments
About Me
Psychic Vrushali is a very charismatic person who promotes spiritualism as guided by divine intelligence. She has strong psychic skills that make her a natural motivator to lead others into their spiritual journey. She considers it her mission to guide lost souls and bring them to the right path.
Since her childhood, she had a fascination with the occult sciences that led her to delve deeper into her intuitive self. Her curiosity made her pursue the subjects related to spirituality, astrology, tarot card reading etc. She researched endlessly to find answers about past-life, reincarnation, rebirth, afterlife and karmic lessons to help people around the globe and restore universal truth & peace.
She is very creative and passionate about life and uses her inner instincts and knowledge to help people manifest their true desires. Her area of interests are unique healing techniques & guidance services based on Vedic Astrology, Western Astrology & Beyond Astrology ,Quantum Physics, Law of Attraction, Numerology, Tarot/Energy/Oracle Card Reading,Twin Flames Relationship Dynamics, Vastu Designs, Chakras Balancing, Emotional Quotient (EQ) sessions and Spiritual Lifestyle Programs for Individuals & Corporates globally.