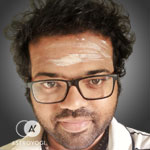 Astro Tejasvi
Vedic, Prashna

Notify me
English, Tamil
---
Chennai
Money Back
Guarantee
Verified Expert
Astrologers
100% Secure
Payments
About Me
I am an experienced and well-known astrologer with years of experience in Vedic astrology. In addition, I am also skilled in a number of other techniques of astrology, such as Prashna, Nadi, KP, Iswara Nadi, and Astavarga. I use the principles of these various methods when drawing natal charts, which allows me to make precise predictions. I am a constant learner, and I have helped people from diverse backgrounds with my knowledge. I've also published over 50 articles in various astrological forums and avenues, all of which have received positive feedback. I can offer guidance on various topics, such as marriage, employment, business, finances, and money. I've seen over 1000 birth charts, and my predictions have earned me praise. I'm here to help you in a variety of facets of your personal and professional lives.
Certificate in Jothida Ratna
2013Chennai, Tamil Nadu
I earned the title of Jothida Ratna as a certified astrologer after completing a one-year program that included training in various aspects of astrology.
Bachelor's in Technology
2011Tamil Nadu
I have a B-Tech degree graduate. Additionally, I have a postgraduate degree in business completed in 2019.