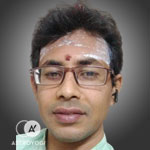 Astro Skanda
Vedic

Notify me
English, Kannada
---
Bengaluru
Money Back
Guarantee
Verified Expert
Astrologers
100% Secure
Payments
About Me
I am a knowledgeable Vedic astrologer, and astrology is a gift that I received from my forefathers. When explaining birth charts to my clients, I use the excellent systems of Prashna Lagna, Dasha Bhukti, Energy Frequency, and Shabari Vidya. In addition, I am skilled in Reiki healing and Vastu. With my experience, I can correctly advise you on career options, finances, love problems, and marriage compatibility. So far, I've seen more than 200 horoscopes/birth charts. I provide very easy and simple remedies for the doshas in horoscopes. My areas of expertise in astrological forecasting include wealth, career, property, marriage, and international travel. My remedies are simple to apply, and my clients can reap the greatest benefit from them. I've learned a lot about different aspects of life thanks to astrology, which also offers simple fixes and accurate forecasts to make life simple and satisfying.
Master's in Reiki
2017Bangalore, Karnataka
I have done a master's level study in Reiki healing from a well-known academy under the guidance of experts.