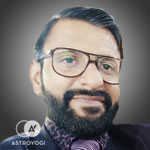 Tarot Siddhartha
Tarot
Hindi
---
Lucknow
Money Back
Guarantee
Verified Expert
Astrologers
100% Secure
Payments
About Me
I am a professional Tarot reader known for my extensive research and spiritual and selfless approach to Occult Science. I have spent years studying and researching Numerology interpretation, Tarot Card Reading, Energy Healing, and Vaastu Shastra principles. I believe in past life regression theory and that the actions or Karma of previous births determine the present. Working in various cities across India, interacting with and meeting a diverse range of people, has helped me better understand the issues that people face in their daily lives and how they affect their ability to achieve their goals. I am an expert in resolving issues concerning money, property, marriage, love, relationships, children, education, career, investments, travel, marital disorders, business, and many other topics. I also provide name corrections using numerology and astrology. My predictions have proven to be accurate, and I follow logical and scientific approaches to recommend simple, effective, and practical remedies that are easy to implement. My sole purpose is to work toward reducing sadness and increasing happiness in everyone's life.
Certificate in Tarot Reading and Numerology
2012Varanasi, Uttar Pradesh
I pursued the divine healing and predictive techniues of Tarot Reading and Numerology from a renowned Vedic research and learning center under the tutelage of well-known masters.
Advance Certificate in Vaastu Vidya & Feng Shui
2005New Delhi
I studied ancient Vastu Shastra and Feng Shui techniques and knowledge at a reputable institute under the tutelage of renowned masters of these divine subjects.
Diploma in Architectural Design
2007New Delhi
I studied architectural design at a prestigious university. I also have a diploma in interior design and am a well-known name in the field. Knowledge of these two subjects enables me to provide more precise solutions and remedies to people with Vastu-related issues.