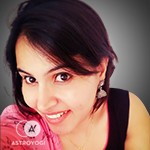 Tarot Sangwan
Tarot
Hindi
---
Noida
Money Back
Guarantee
Verified Expert
Astrologers
100% Secure
Payments
About Me
I am a professional Tarot reader with exceptional intuition. For me, learning is a never-ending process, and I've always been fascinated by divine science, which is why I decided to learn Tarot reading. I've earned certifications in Tarot, Akashic Reading, Numerology, and various other occult science subjects. I believe that God sends an angel of assistance to those willing to do their duty. Usually, I provide advice on marriage, love, relationships, careers, money, and investments. The solutions I propose are simple and effective. My main goal is to assist people with complete honesty and compassion to the best of my ability.
Certificate in Tarot Reading
2021Goa
I have earned my professional certificate in tarot reading under the guidance of a renowned guru at a well-known academy of Tarot.
Certificate in Akashic Reader
2021Mumbai, Maharashtra
I received my certification as a professional Akashic Reader from a well-known institute for occult sciences under the guidance of a renowned master, Dr. Geetanjali Saxena.