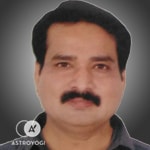 Acharya Nakshatra
Vedic Astrology
Hindi
---
Jaipur
Money Back
Guarantee
Verified Expert
Astrologers
100% Secure
Payments
About Me
Acharya Nakshatra is a renowned astrologer with over 20 years of experience in Vedic, Jaimini, and KP Jyotish. He has attended several national and international astrological conferences. He has received numerous awards and accolades for his work in Vedic Astrology and Vastu-Shastra. He has even published several books and written 100+ articles on astrology and related subjects. He analyses your horoscope using Vedic, Jaimini, K.P., Tajik Astrology and then guides you in making the right decisions.
Silver Medal in Jyotish Praveen
1999
Acharya Nakshatra passed the Jyotish Praveen Exam with a Silver Medal at The Indian Council of Astrological Sciences.
Jyotish Visharad
2000
Acharya Nakshatra has also cleared the Jyotish Visharad Exam.
In addition, he holds a Master's degree in Sociology and a Bachelor's degree in Education (B.Ed.).