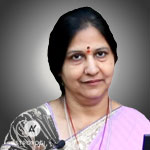 Acharya Muskaan
Vedic
Hindi, Punjabi, Telugu
---
Hyderabad
Money Back
Guarantee
Verified Expert
Astrologers
100% Secure
Payments
About Me
"Acharya muskaan is a well-known and certified ASTRO-NUMEROLOGIST, PALMIST , CHINESE NUMEROLOGIST, ADVANCED NUMEROLOGY, KP ASTROLOGER , PRASHNA KUNDALI SPECIALIST , ADVANCED STELLAR NADI ASTROLOGY, TAROT CARD READING, ORACLE CARD READING , ANGEL CARD READING , SWITCH-WORDS , ZEBO SYMBOLS, REIKI GRAND MASTER, ANGELIC BLESSING, CHAKRA READING, BRIGU-NANDI NAADI AND MANY MORE FROM PAST 15 YEARS. Being from a family of astrologers and palmists, she has vast knowledge in vedic and advanced astrology. Also benefitted from her guru's prodigious knowledge in astrology and numerology. Each and every respected guru of acharya muskaan has taught her deep secrets in their strong respective occult subjects. She has been providing advice and guidance to a wide range of clients in india and around the world . Her areas of expertise include providing the solutions to every problem such as relationship, marraige, career, business etc. She is kind-hearted person and can provide accurate predictions that may help you in dealing with events of your future. She prepares and analyzes horoscopes and lo-shu-grid charts to advice clients regarding future events. She uses various remedy methods such as astrological remedies, fengshui remdies, lo-shu-grid remedies, chakra balancing remedies, vastu remedies according their kundali , crystal remedies, lal kitaab remedies etc. She likes to encourage her clients to see the obstacles in life as stepping stones to achieve success. She firmly believes that there is a cosmic and spiritual solution to every problem.

Key highlights and achievements:
Palmistry
Jyothir vastu foundation
2009
Hyderabad, narayanaguda
Vedic Astrology
Nori foundation
2008
Moosarambagh, Hyderabad
Kp Advanced astrology
Universal college of kp Astrology
2010-2012
Chikadpally, Hyderabad
Brigu-nandi naadi
STAR REASEARCH CENTER
2010
GANDHI NAGAR, HYDERABAD
MEENA 2
Jkr astro reasearch foundation
2015
Padma Rao nagar , Hyderabad
Numerology
RR numerology institute
2008
Ameerpet, Hyderabad
Advanced numerology
T.m.s research center
2015
Kondapur, Hyderabad
Advanced vastu
T.m.s reasearch center
2015
Kondapur, Hyderabad
Maha vasthu
Sanchit agarwal
Vmv foundation
2019
Merut, up
Tarot card
Jagmohan sachdeva
International healing institute
2019
Delhi
Reiki grandmaster
Jagmohan sachdeva, upasana madam
2019, 2017
Delhi
Switch words
Jagmohan sachdeva
2019
Delhi
Zebo symbols
Jagmohan sachdeva
2020
Delhi
Archangel, chakra balancing , healing
Kiran sachdeva
2020
Delhi"