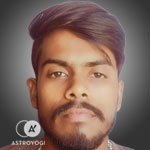 Astro Munna
Vedic

Notify me
English, Hindi, Telugu
---
Hyderabad
Money Back
Guarantee
Verified Expert
Astrologers
100% Secure
Payments
About Me
I am a professional astrologer, and helping people and resolving their problems keeps me motivated. My grandparents were astrologers, and they inspired me at a young age, which sparked my interest in astrology. I specialize in Vedic astrology, numerology, palmistry, spiritual healing, black magic removal, and gemstone guidance. With my keen observations, I identify my client's problems and offer appropriate solutions and problems. My remedies help people overcome bad Karma and live happier lives. My primary areas of expertise in counseling are love and relationship, marriage, wealth and property, education, career and business, and international travel. I have satisfied more than 2000 Indian and international clients with my consultations.
Certificate in Numerology and Palmistry
2019Jaipur, Rajasthan
Under the direction of renowned gurus, I have studied the divine predictive methods of numerology and palmistry.