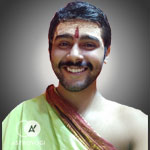 Acharya Kaushal
Vedic
Hindi
---
Ghaziabad
Money Back
Guarantee
Verified Expert
Astrologers
100% Secure
Payments
About Me
I am a certified professional astrologer with seven years of experience and a thorough understanding of Vedic astrology. After completing my traditional education, I went on to study astrology at a prestigious Vedic Astrology department at a prestigious Sanskrit university. Working in the field of astrology for the past seven years, I studied Vedic Astrology, Vedic Rituals, and Tantric Rituals and began practicing a long time ago. Throughout my astrological career, I have consistently provided appropriate solutions to people's problems using my knowledge of Vedic Astrology, specializing in Kundli (Horoscope) creation. Aside from Vedic astrology, I've worked with people's issues using Vedic Rituals, Tantric Rituals, and Navagraha Yantras. Thousands of people have benefited from my vast experience in these fields. My clients come from all walks of life and are spread across India and worldwide.
Acharya (Jyotish)
2020New Delhi
I completed my degree in Jyotish (Vedic Astrology) Acharya, a research-oriented program, from a respected Sanskrit University.
Shastri (Jyotish)
2018New Delhi
I completed my Shastri degree in Jyotish (Vedic Astrology) from the same Sanskrit University where I pursued my Acharya degree.