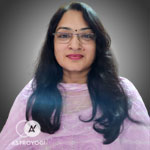 Tarot Kank
Tarot

Notify me
Hindi
---
Delhi
Money Back
Guarantee
Verified Expert
Astrologers
100% Secure
Payments
About Me
I am an experienced certified Tarot card reader and numerologist. I've been using these methods for divine prediction for a while now. My area of specialization is Tarot Card Reading, Angel Therapy, Spells, and Numerology. Through my knowledge and divine abilities, I aim to provide my clients with deep and meaningful insights into various aspects of their lives. I can give you accurate advice and solutions to your everyday problems. I communicate with my clients, try to solve their problems, and form a trustworthy relationship with them.
Certificate in Tarot Reading
2016Haryana
I studied under renowned experts in the field of tarot card reading and earned professional certification.
Certificate in Numerology
2013Haryana
Under the tutelage of renowned masters in the field, I learned the divine destiny science of numerology reading.