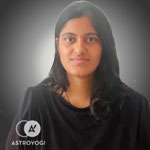 Tarot Iyra
Tarot
English, Telugu
---
Bengaluru
Money Back
Guarantee
Verified Expert
Astrologers
100% Secure
Payments
About Me
I have over 6 years of experience as a professional Tarot Reader. I can make predictions so that the client can progress in a positive way. I have experience providing solutions to people's predicaments involving love and relationships, everyday life blocks, and career blocks, among other things. In my opinion, Tarot is designed in a way to enhance your lifestyle with very intuitive readings. I believe that the universe gives you what you ask for, and this is especially true when it comes to Tarot, as a person's energy draws the cards. The purpose of the Tarot is to assist in removing obstacles, and with this knowledge, I can help in removing obstacles in people's daily lives.
Certified Tarot Reader
2015Bangalore, Karnataka
I received my professional Tarot Card reading certification from a well-known institute in Bangalore.
Master of Business Administration in Finance
2013Bangalore, Karnataka
I have done my post-graduation in MBA (Finance) from a well-established educational institute in Bangalore.