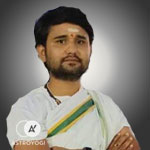 Acharya Hari
Vedic
Hindi
---
Varanasi
Money Back
Guarantee
Verified Expert
Astrologers
100% Secure
Payments
About Me
I am a well-known astrologer who specialises in Vedic Astrology (Parashari Jyotish) and other astrological services such as Gems, Numerology, Vastu, and Prashna Kundli. Born and raised in a Brahmin family, I benefited from my father's and grandfather's extensive knowledge of astrology, both of whom were renowned astrologers of their time. My areas of expertise include business, careers, finance, marriage, and love life relationships. I have over 8 years of experience, and most of my predictions, suggestions, and horoscope readings have proven to be correct. I've given advice and counsel to countless clients from all over the country and the world. I am a firm believer in fate and the influence of the planets on it. I offer remedies based on personal information such as date of birth, time of birth, and place of birth. I believe that the planetary movements at the time of one's birth have an impact on our current lives.
Shukla Yajurveda (Graduation)
2017Varanasi, Uttar Pradesh
I studied Shukla Yajurveda, equivalent to a graduation program, at a prestigious Sanskrit university in Varanasi.
Shiksha Shastri
2019Chittorgarh, Rajasthan
I completed my Shiksha Shastri course, equivalent to a B.Ed study program from a well-known university in Rajasthan.