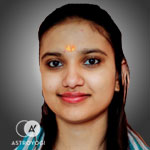 Tarot Flora
Tarot
English, Hindi
---
Gurgaon
Money Back
Guarantee
Verified Expert
Astrologers
100% Secure
Payments
About Me
Hello! I have over five years of experience as a professional Tarot Reader. Tarot is a tool that reveals the world's hidden secrets and makes sense of the visible ones. I am a down-to-earth person who believes that tarot has taken me to the stars. I enjoyed learning about planets, energies, and the universe in school. I was also interested in stones and other divine practices. Also, my mother is an astrologer, and I began observing how she does this. When I was 14, I began practicing regularly and doing a little tarot. And gradually, I began doing it every day to cultivate a positive relationship with cards. My energies became more positive as I progressed, and I became more enthusiastic about learning this. After a few months, I became more confident in tarot, so I began communicating with people and guiding them, which increased my confidence. Later, I finished high school and began studying Vastu and Numerology. This aided me in becoming more outgoing and communicating with others. These abilities aided me in keeping my clients on the right track in different aspects of their life. In my opinion, the best way to assist a client is to provide them with positivity, strong benefits, and confidence and tell them that they are always capable of doing things and that nothing is impossible.
Masters in Vastu
2020Gurgaon, Haryana
I received my master's certificate in professional Vastu Shashtra from a well-known institute.
Certificate in Tarot Reading
2017Gurgaon, Haryana
I have a certificate in professional tarot card reading from a well-known tarot learning center, where I studied under the tutelage of a renowned tarot master.
Certificate in Jamakol and Reiki
2019Gurgaon, Haryana
I received my master's certificate in Jamakol and Reiki Healing from the same institute where I received my master's certificate in Vastu.
Certificate in Violin and Dance
2006Jaipur, Rajasthan
Aside from my love of the divine sciences, I also enjoy music and dance, so I completed a certificate course in Violin and Dance at a prestigious institution.